Fill the Christmas Kettle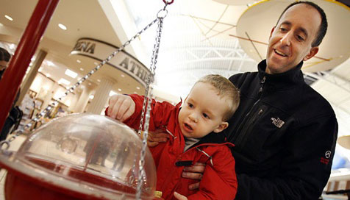 Many people who The Salvation Army serve often go unnoticed by others. For them, things like the simplicity of a hot meal and a warm bed are often their most immediate dreams. Dreams start small and one grows into the next one, leading to a life filled with hope, promise and dignity. Every donation, regardless of its size, makes a difference.
Funds raised through donations made at Christmas kettles, together with other sources of funds, help provide direct, compassionate, hands-on service to approximately 1.9 million people each year in Canada, restoring hope and dignity to those who might otherwise remain invisible in society. Donations made to a personal kettle will be used in the donor's area of residence, which may not be the same as that of the person hosting the kettle.
The Personal Online Kettle is an easy to use online tool that allows participants to customize their own kettle fundraising webpage and invite others via email and social media to donate in support of the work of The Salvation Army.
Please note: This site can accept Canadian donations only. If you are outside of Canada and would like to support a virtual kettle, please email us at communications@salvationarmy.ca - we will provide instructions for making a secure donation.
If you created a virtual kettle in previous years, please note Salvation Army has changed systems and you will need to register to create a new log-in this year.
Become a Virtual Bell-Ringer Search for a Virtual Bell-Ringer Donate to the Salvation Army